◎ Product Type: Perfect Binding brochure
◎ Size: 279*210mm (Portrait)
◎ Options: Full color print cover+Matte finished+gold foil stamped
Cover: 300G Coated paper, inner page: 200G
Perfect Binding
◎ Small MOQ: 250pcs
Free shipment to USA, Australia, Canada, New Zealand, Malaysia, Thailand, Singapore, Sweden, Spain, Germany, England, France, Italy, Austria, Hungary and so on..
Email sales@hbl-print.com now to get good price!
Brochure printing specific:
Common sizes
210*285mm, 185*260mm, 140*210mm, 125*180mm
(8.27*11.22inch, 7.28*10.23inch, 5.51*8.27inch, 4.92*7.09inch )
NOTE: We can do it other sizes too, such as 8.5*11inch, but the cost will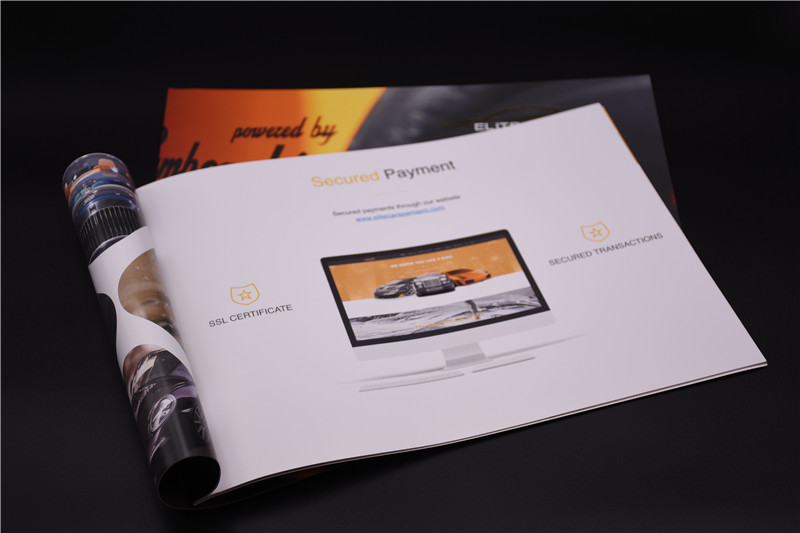 be little high. If we can change the size to 8.27*11inch, the price will be cheaper.
Common Paper material
Coated paper, dumb powder paper, wood-free paper.
Common options
Matte/glossy overlay, spot UV, foil stamped, embossed, cutout, die cut
Binding mode
Saddle stitched, perfect binding, sewn binding
Printing advice
Grams for Cover: suggested 200gms, 250gms, 300gms.
Grams for pages: suggested 80gms, 105gms, 157gms, 200gms.
For the promotion brochure, we suggest to use 105~157gms, and 200gms is suggested for company image publicity. We don't suggest to use the thick paper for pages, it's difficult to turn the pages, the end user experience is not good.
If you don't want high cost but want to achieve the quality, we can make a choice from the page grams, 105g~128grams is a good point.
Brouchure printing is a very broad definition in the printing industry, it refers to all bookings that with binding, it can be only texts or pictures. There're enterprise brochure, product catalogue, product brochure, clothing brochure, magazine and so on.
Brochure printing is one of our main product, we have new imported KOMORI lithrone and Heidelberg professional printing machine, specialized in the production of brochure printing products. Also with with a serial of after production equipment. Therer're skilled professional team to provide you with intimate professional services. It's the best choice for your book printing.